Obama prods China on yuan but Hu silent on issue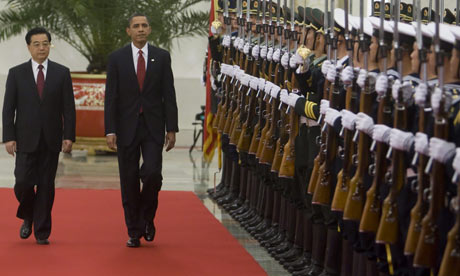 U.S. President Barack Obama on Tuesday urged a reluctant China to let its yuan currency rise in value at a summit where strains over trade between the two giants crept into proclamations of goodwill.
Standing beside Obama after their summit, Chinese President Hu Jintao avoided mentioning the yuan or the dollar.
Instead, Hu emphasized during a joint media appearance the need to avoid trade protectionism in a thinly veiled reference to China's irritation over new U.S. tariffs on Chinese-made tires, steel pipes and other products.
With the U.S. unemployment rate at 10.2 percent, one of Obama's top priorities during his three-day trip to China is pressing Beijing over the huge trade imbalance between the two countries, a move he believes would pave the way for greater U.S. export opportunities.

Washington argues that an undervalued yuan is putting U.S. manufacturers at a disadvantage and stoking global economic imbalances.
"I was pleased to note the Chinese commitment made in past statements to move toward a more market-oriented exchange rate over time," Obama said as Hu stood next to him on a podium with three Chinese and three U.S. flags in the background.
Obama said movement by China on its exchange rate would "make an essential contribution to the global rebalancing effort."
But his reference to China's "past statements" on currencies indicated Hu might not have been forthcoming on how Beijing might respond.
Hu said the two leaders talked of the need to keep in close contact on "macroeconomic and financial policies and continue to consult, on an equal footing, to properly resolve and address economic and trade frictions."
"I stressed that under the current circumstances, we need to oppose all kinds of trade protectionism even more strongly," Hu said.
Sun Zhe, director of the Center for U.S.-China Relations at Tsinghua University in Beijing, said Hu's silence on the currency may stem in part from a reluctance by China to be seen making policy concessions under foreign pressure.
"I personally think that there may be some slight, symbolic adjustment on exchange rate policy after Obama leaves, but not during the visit itself," said Sun.

"But don't expect much. China believes that the main problem is not the weakness of the yuan but the weakness of the dollar. The feeling here is, 'Why should we be the scapegoat for your dollar problems?"
The issue of currencies has sparked testy exchanges in recent days between U.S. and Chinese officials.
China's Commerce Ministry on Monday rebuffed calls for the yuan to appreciate, signaling resistance to change a controversial foreign exchange policy.
Outside pressure has been building on Beijing to let the yuan rise after more than a year of it being nearly frozen in place against the dollar, with the latest appeal voiced by the head of the International Monetary Fund on Tuesday.
China's central bank last week tweaked its description of how it manages the currency, setting off a firestorm of speculation that it might be willing to give the yuan some room to run, although market expectations of appreciation have remained muted.